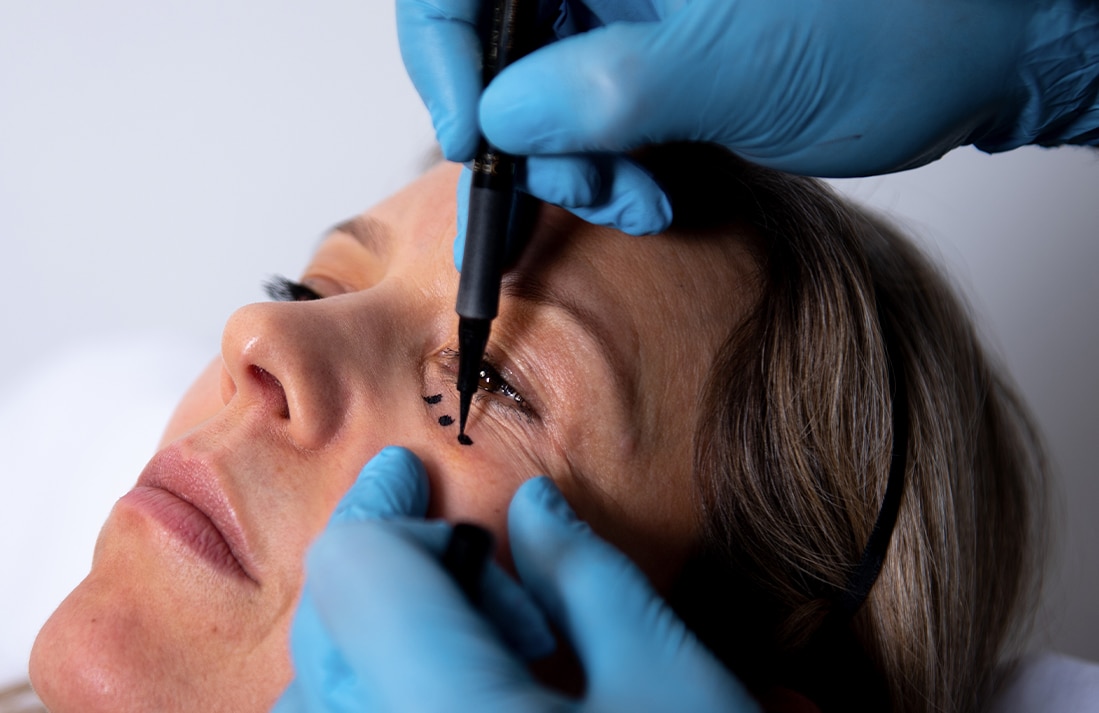 FACIAL AESTHETICS
Define Eye Refresh©
Don't Hide Tired Eyes
When it's late in the day, changes to the delicate skin around our eyes are often the first tell-tale signs of tiredness.
And, as we get older, the effect only gets more pronounced. Bags under the eyes and pronounced tear troughs can make us appear tired even when we feel at our best.
It's yet another common sign of ageing caused by the loss of elastin and collagen, and the weakening of connective tissues across the face over the years.
Led by world-leading aesthetics practitioner and cosmetic surgeon Dr Benji Dhillon, the Define Clinic team has perfected a breakthrough technique to rejuvenate tired eyes using tiny amounts of hyaluronic (HA) filler.
The Define Eye Refresh© features a combination of two different fillers to address both the loss of volume under the eyes and changes to the skin that lead to tired eyes.
Tear Troughs and Tired Eyes
Under the eyes, HA filler can achieve stunning rejuvenating effects by firming and volumising the skin – eliminating bags or dark circles under the eyes which give us that tired appearance.
Fillers are also fantastic at reducing tear troughs – the 'panda' lines beneath our eyes which also add on the years.
Whether alone or as part of a more comprehensive non-surgical facelift, dermal fillers achieve subtle yet striking rejuvenation under and around the eyes.
But the overall effect is much more profound – complete harmony and balance between the way we feel inside and the face we show to the outside world.
Define Eye Refresh© FAQs
With some exceptions, you should be able to get back to your daily routine right away. We recommend avoiding strenuous activities for 12 hours after treatment. You should also avoid applying makeup, sun exposure, saunas and steam rooms.

Not usually. Some patients experience mild bruising or swelling after their injection, but this usually subsides in a day or two. You can mitigate some of the risks of bruising by avoiding anti-inflammatory painkillers like aspirin, ibuprofen and naproxen.

One of the main reasons patients choose Define Clinic is Benji Dhillon's skill for getting natural results. Friends may complement your rejuvenated looks and they'll also want to know your secret.

Dermal fillers aren't permanent and effects can last anything from six months to two years. Lots of patients opt for regular tweaks and top-ups to stay looking their best.