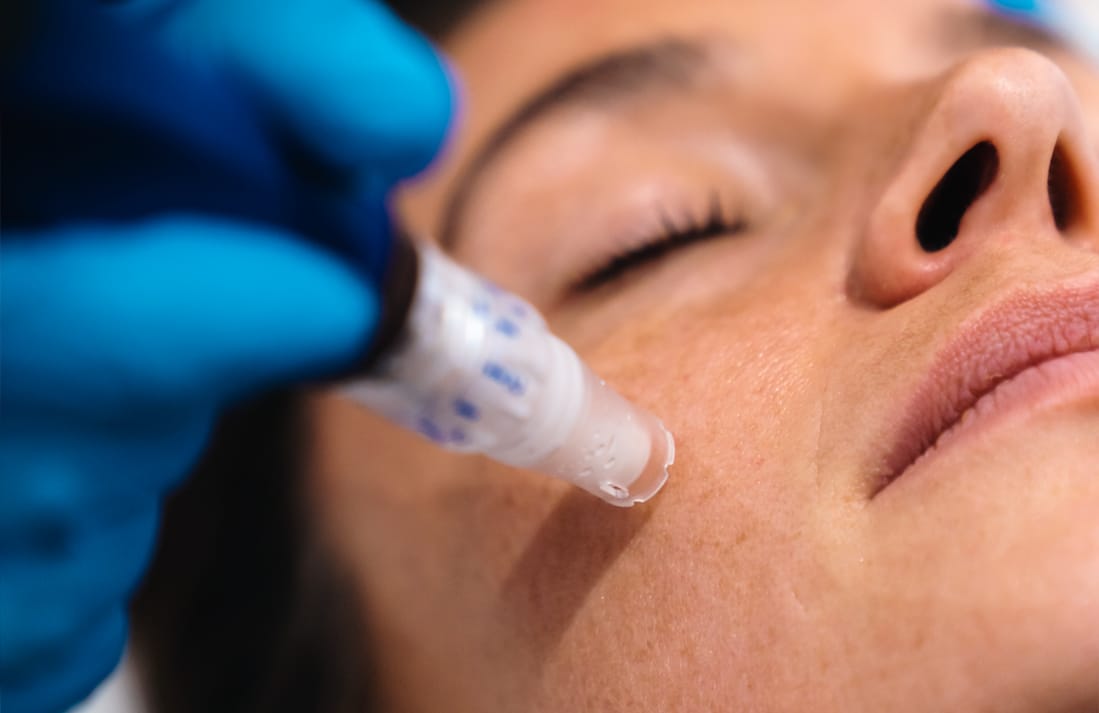 SKIN REJUVENATION
Microneedling
Wake Up Your Complexion
At Define Clinic, we're led by world-renowned cosmetic surgeon Dr Benji Dhillon. Dr Dhillon has carefully selected the most effective treatments for blemishes, skin conditions and signs of ageing.
Among them is microneedling – also known as collagen induction therapy – an advanced technique used to tackle even the harshest of skin problems.
Suppose you're suffering through issues like stretch marks, pigmentation, scarring and wrinkles. In that case, microneedling can help improve the quality of your skin and even improve your skin's ability to absorb skincare products.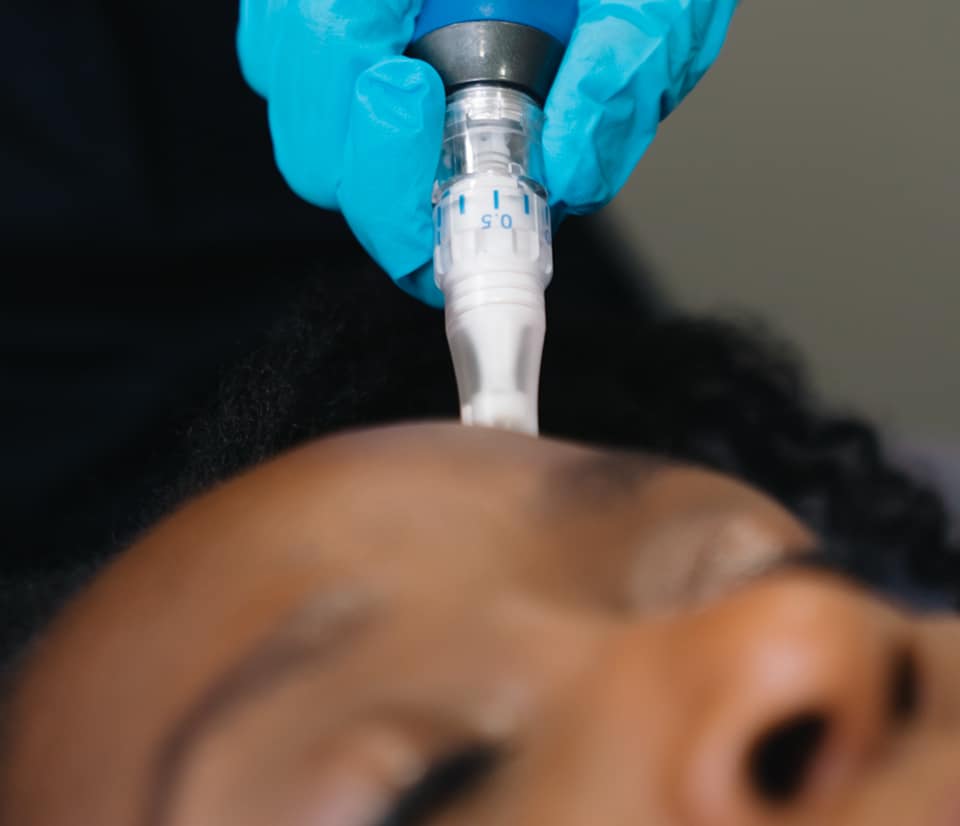 What is Microneedling?
We use very fine, tiny needles to create mini punctures all over the target area. This makes your body think it's been wounded causing it's natural healing defences to kick in. Of course, there are no real wounds. Regardless, the process tricks your body into producing healing proteins such as collagen.
Collagen provides skin with elasticity, thickness and strength. When microneedling methods are applied, this helpful little protein goes into overdrive and gives your skin a healthy-looking, replenished glow.
As we grow older, our collagen levels naturally drop. When your body is duped into creating more collagen, it continues to produce for up to nine months. This means you can watch results keep developing well after treatment.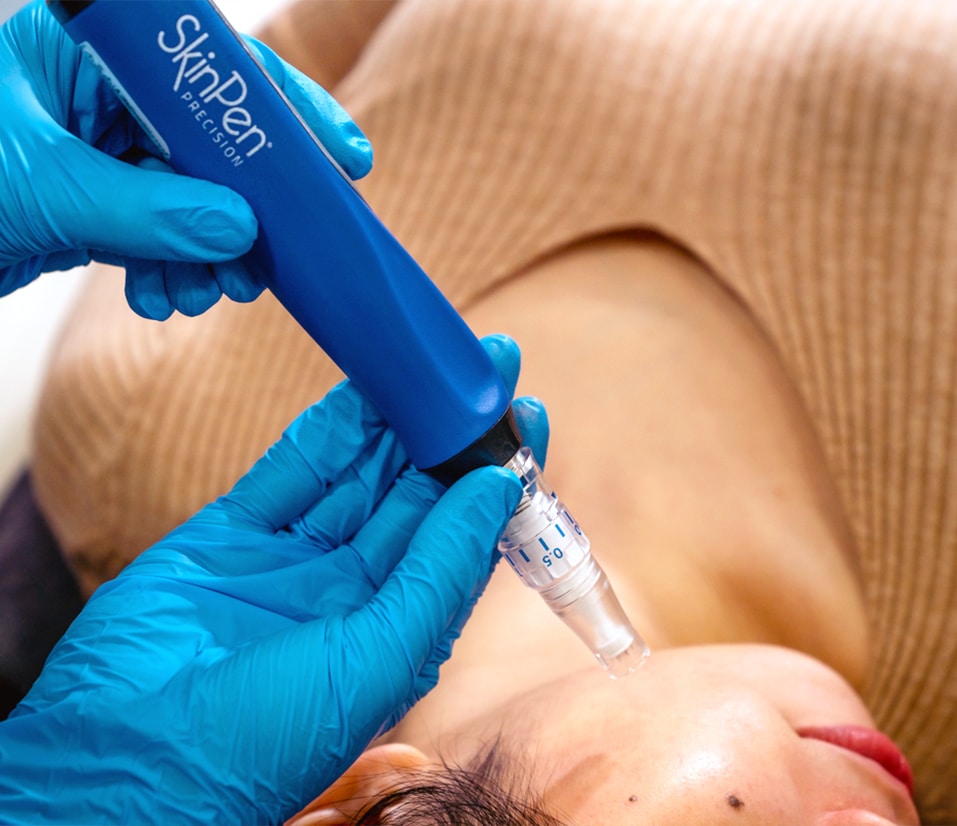 Used for
Wrinkles
Scarring
Pigmentation
Stretch marks
Microneedling FAQs
Microneedling can improve the appearance of a variety of skin conditions. These include surgical and burn scars, as well as more general types of scarring, stretch marks, fine lines and wrinkles and hyperpigmentation.

During your consultation, Dr Dhillon will assess your needs and goals to determine if microneedling is right for you.

At Define Clinic, we also provide a relaxed, warm atmosphere to reduce any anxiety and ensure all patients are as comfortable as possible. By using a combination of the latest microneedling devices and local anaesthetic, you will experience minimal discomfort.

There is minimal downtime, though patients should expect the skin to appear slightly red for 24 hours post-treatment.
After a few days, the skin will usually begin to flake as skin cells start to regenerate. Wear at least 30 SPF for four weeks after treatment.

Results will begin to show after around a week. Though patients may immediately notice a plumping effect, collagen reserves in the skin need time to produce adequate amounts for healthy skin repair.

Optimal results will be evident at the six-week mark. The skin repair process is stimulated for several months, though repeat treatments and a good standard of skincare can help increase longevity.
Experience Tighter Brighter Skin Today
Contact Define Clinic today and book your consultation with world-leading cosmetic surgeon Dr Benji Dhillon and team.
Get in touch