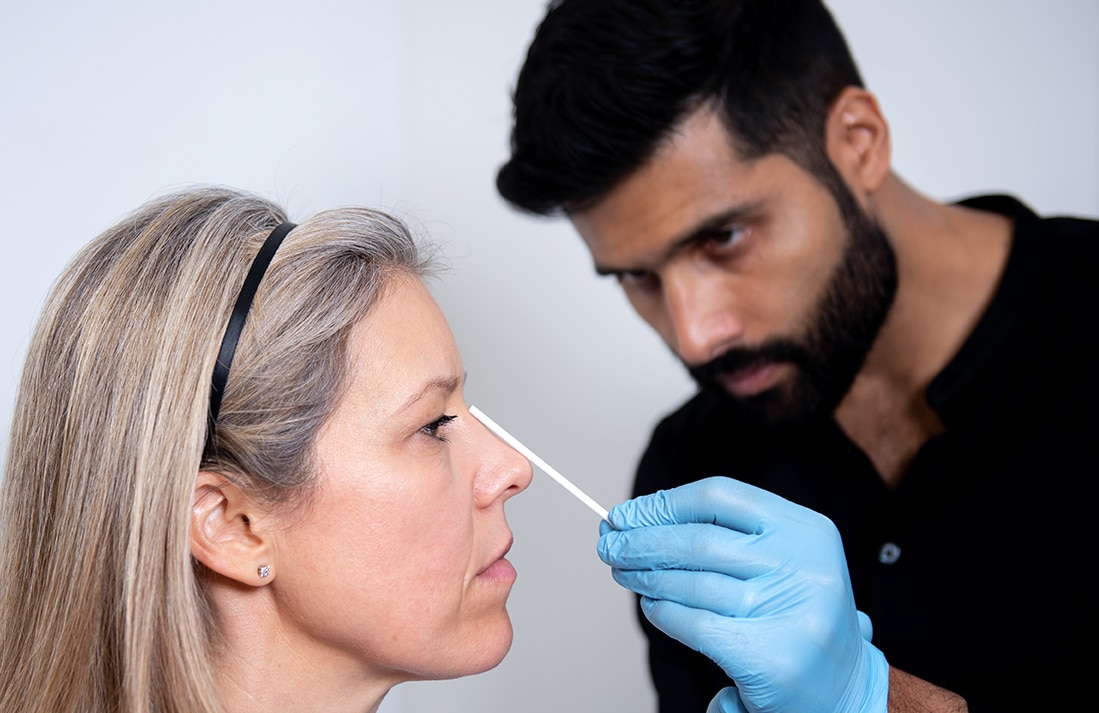 FACIAL AESTHETICS
Non-Surgical Rhinoplasty (nose job)
From £450*
No Surgery Needed
Poor definition and ridges or bumps can make you feel like your nose is always the centre of attention.
In the past, the only answer was a costly and permanent rhinoplasty with all the associated downsides of invasive surgery.
But all that changed in recent years thanks to advances in dermal fillers, which achieve the same effects in just 15 minutes with no downtime or recovery period needed.
Dr Benji Dhillon's non-surgical rhinoplasty – or non-surgical nose job – addresses a range of concerns like bumps, ridges, asymmetry and hooked appearances.
They work by applying a small amount of hyaluronic acid (HA) filler beneath the skin to improve symmetry, reduce inconsistencies and improve overall aesthetics.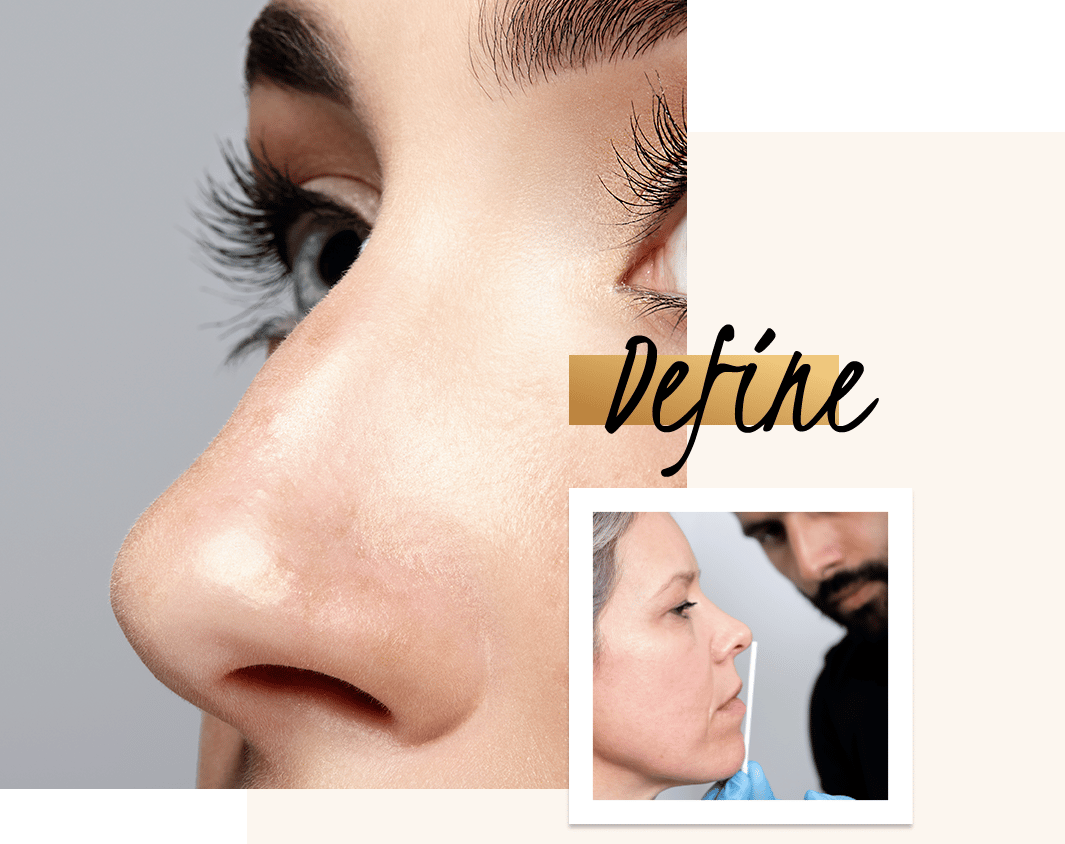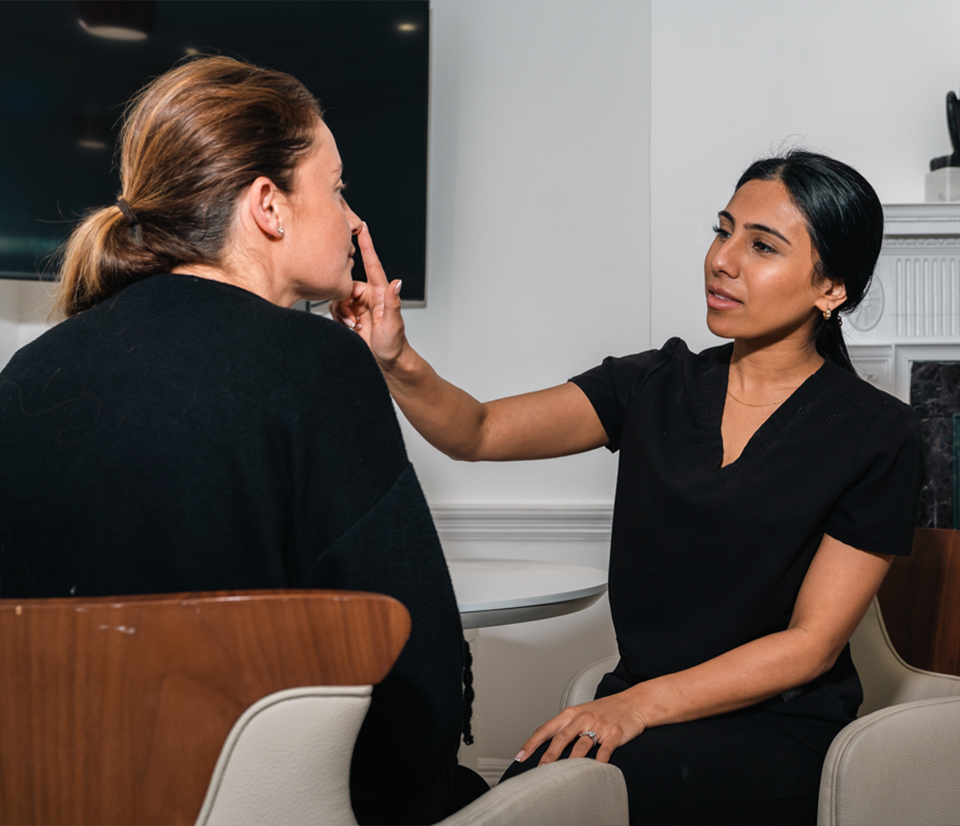 Bumps on The Nose
A bump or ridge on the nose isn't just a cosmetic concern. It can be a constant source of self-consciousness that prevents us from expressing our true selves.
With dermal fillers, you no longer need to undergo expensive or invasive surgery to address the problem.
Fillers effectively reshape and disguise bumps, dramatically improving nasal contours by blending them seamlessly with your natural bone structure.
*Treatment is £450 when performed by one of Benji Dhillon's trained associates.
Non-Surgical Rhinoplasty FAQs
Though there may be some swelling and redness, dermal fillers treatments provide instant results, so patients can expect to see a difference straight away.

At Define Clinic, we always aim to create flawless results that work cohesively to the entire face for a subtle enhancement, so although your friends and family may notice a natural-looking improvement, they may not be able to tell you have had anything done.

Dermal fillers are made of hyaluronic acid, a natural substance that can be broken down by, the body. Because of this, non-surgical rhinoplasty is not a permanent treatment. Patients can expect results to last up to two years without top-up or maintenance treatments.

No, if you do feel any mild discomfort, this should subside overnight. Before treatment, we can also apply some numbing cream if you feel you'll need it.

Although patients can return to their daily routines immediately, they should still take precautions to ensure the best results. For the first 12 hours after treatment, avoiding alcohol and exercise is recommended, and pressure should not be applied to the area for a few weeks after.

Patients should also be aware that redness, swelling, and bruising should occur, though this should subside in a few days.